PCET's Pune Business School (PBS) ranked 5th among India's Emerging business Schools.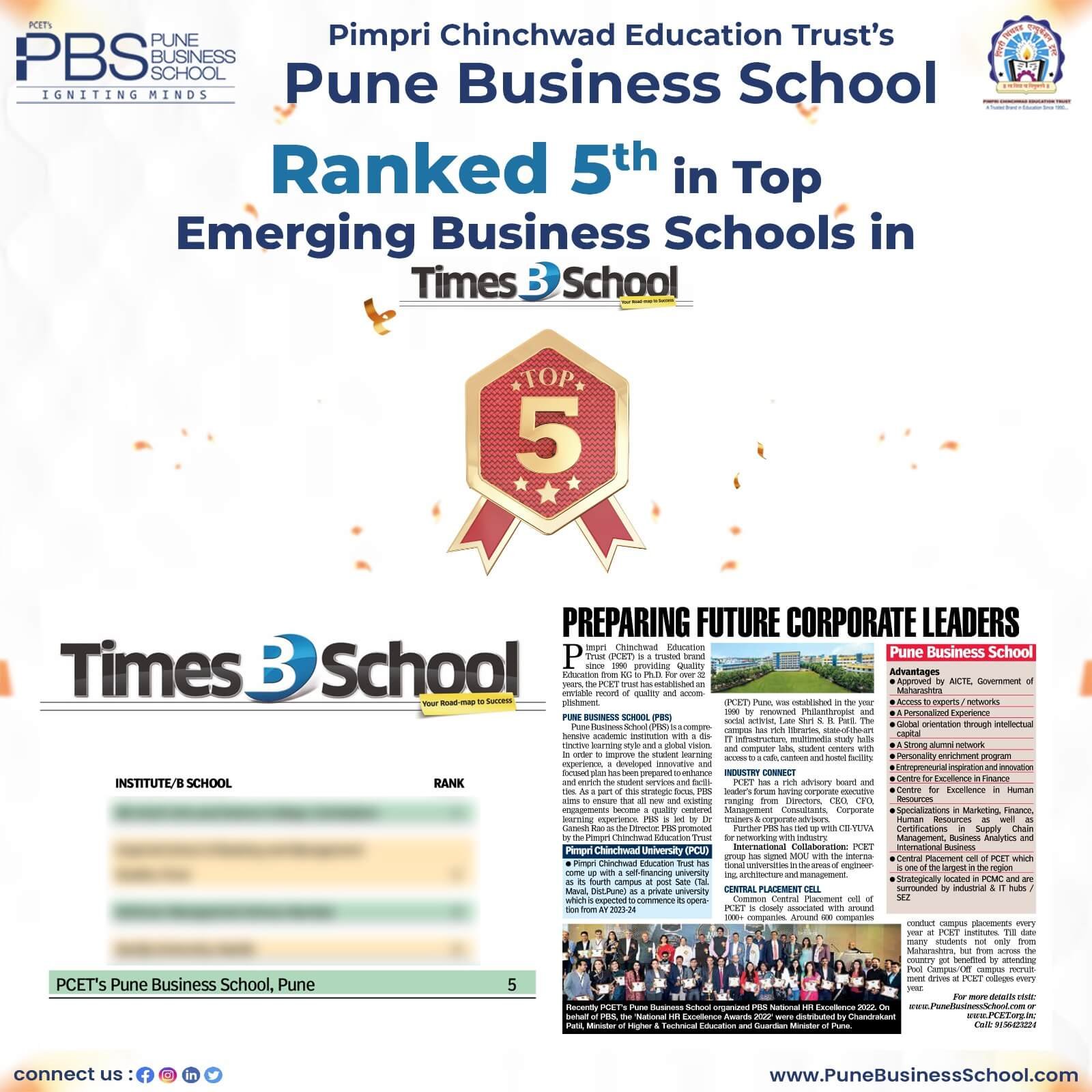 Media Coverage of HR Excellence Award 2022
Glimpse of HR Excellence Award 2022!
On behalf of 𝐏𝐂𝐄𝐓'𝐬 𝐏𝐮𝐧𝐞 𝐁𝐮𝐬𝐢𝐧𝐞𝐬𝐬 𝐒𝐜𝐡𝐨𝐨𝐥 (𝐏𝐁𝐒) '𝐇𝐑 𝐄𝐱𝐜𝐞𝐥𝐥𝐞𝐧𝐜𝐞 𝟐𝟎𝟐𝟐 𝐀𝐰𝐚𝐫𝐝' was distributed by hands of 𝐇𝐨𝐧. 𝐒𝐡𝐫𝐢. Chandrakant Patil - Minister of Higher & Technical Education & Guardian Minister Pune on Saturday. PCET's President Hon. Shri. Dyaneshwar Landge, Vice President Hon. Smt. Padmatai Bhosle, Secretary Hon. Shri. Vitthal Kalbhor, Treasurer Hon. Shri. Shantaram Garade, Trustee & Former Minister Hon. Shri. Harshvardhan Patil, Executive Director Dr. Girish Desai, Wakefield Executive Director Mr. Mukesh Malhotra, Savitribai Phule Pune University Head of Commerce Department Dr. Parag Kalkar and others were present for the event at Hyatt, Pune.
𝐇𝐨𝐧. 𝐒𝐡𝐫𝐢. 𝐂𝐡𝐚𝐧𝐝𝐫𝐚𝐤𝐚𝐧𝐭 𝐏𝐚𝐭𝐢𝐥 said, 'HR' is the link between company management and workers. 𝐇𝐨𝐧. 𝐒𝐡𝐫𝐢. 𝐇𝐚𝐫𝐬𝐡𝐯𝐚𝐫𝐝𝐡𝐚𝐧 𝐏𝐚𝐭𝐢𝐥 said that it is planned to hold such a program of 'HR Excellence Award' every year on behalf of PBS. Mr. Sudhir Mateti, Mr. Niraj Gupta, Mr. Sangram Singh Pawar, Dr. Geetika Madan, Mr. Vinod Bidwaik, Mr. Saurabh Shah, Dr. Vaibhav Deshmukh, Dr. Girish Desai were the jury members for the HR Excellence Award 2022.
Five hundred applications were received across the country out of which best 51 were selected in various categories. The award ceremony was attended by HR representatives of various companies, principals/ directors of PCET institutions and heads of departments.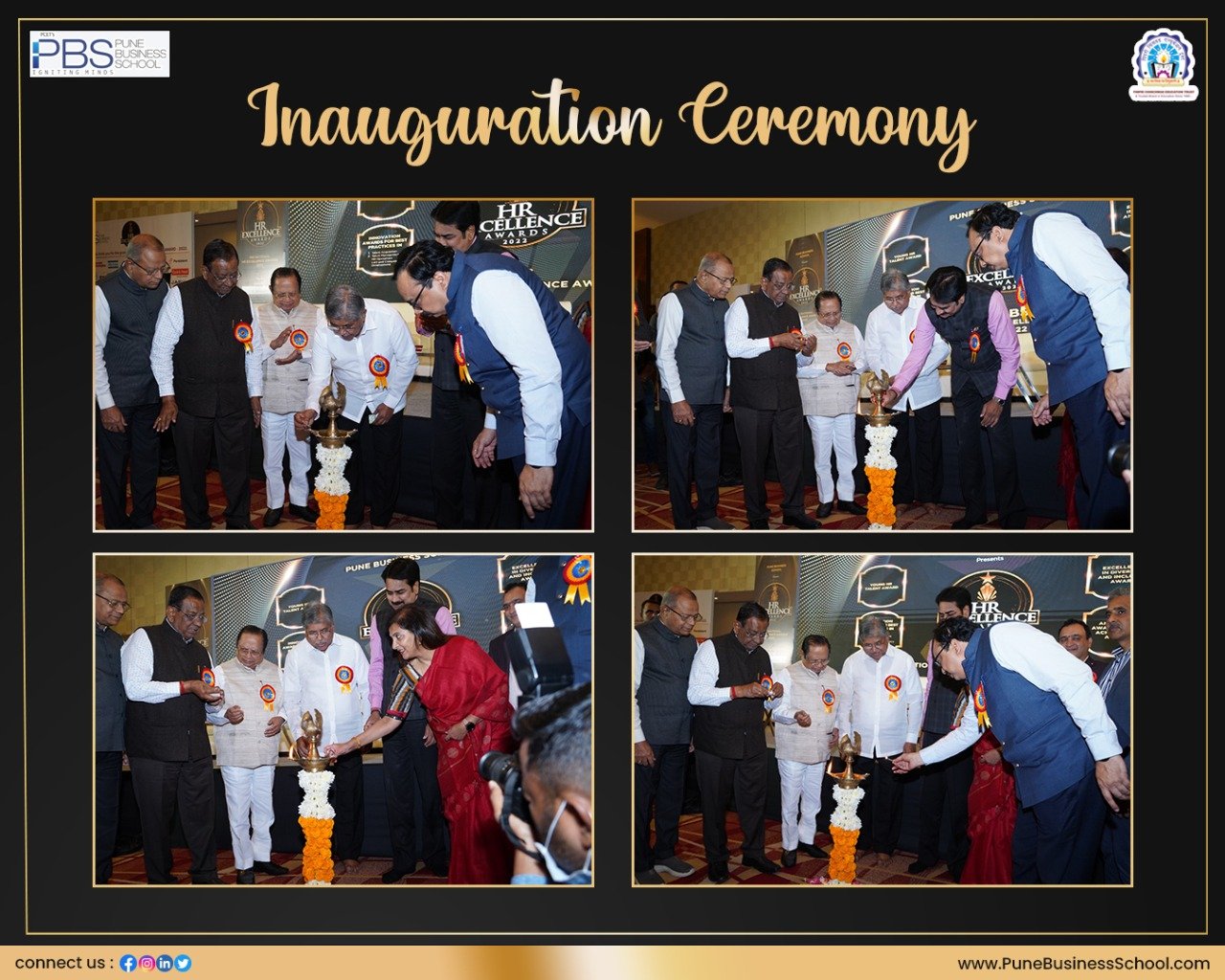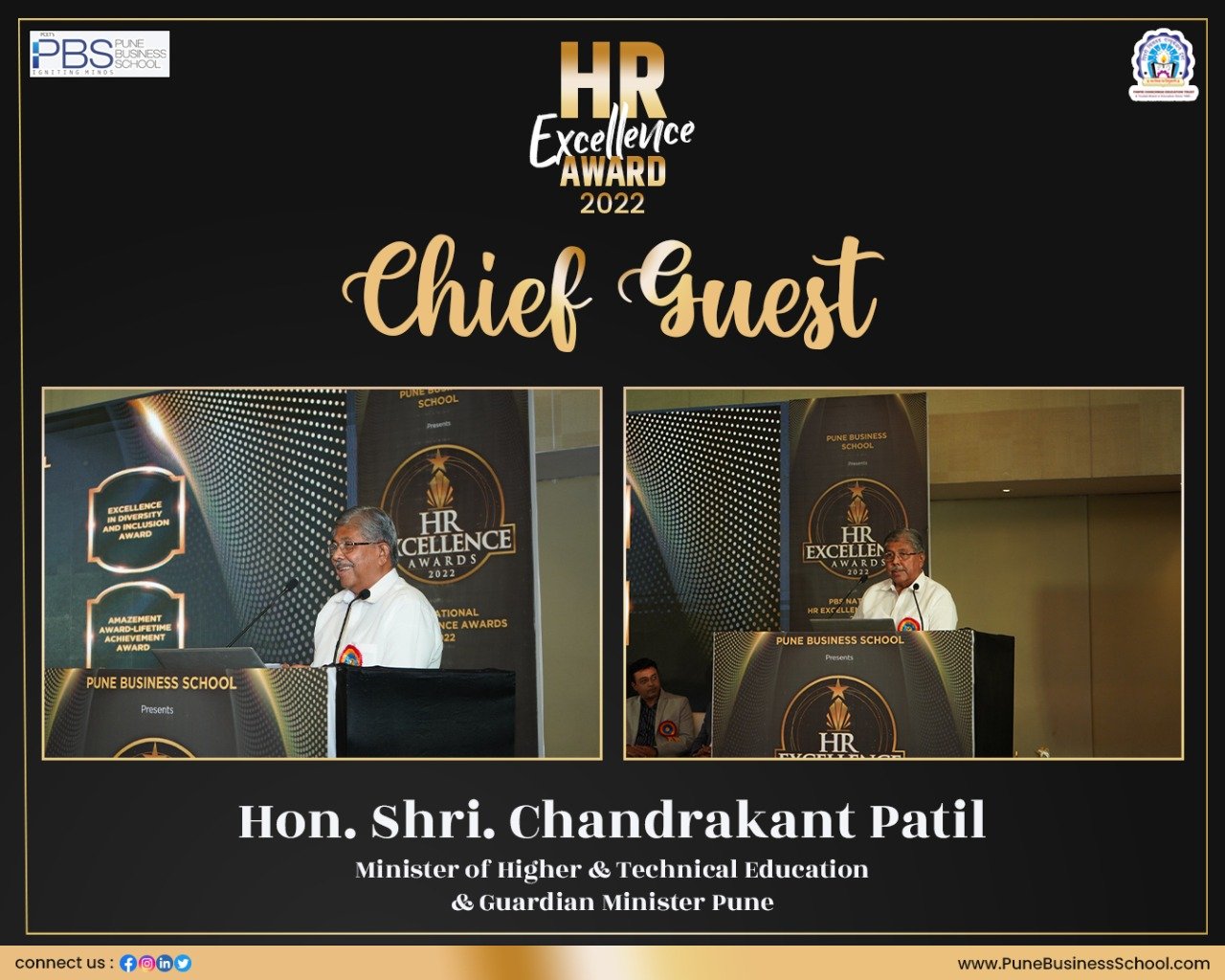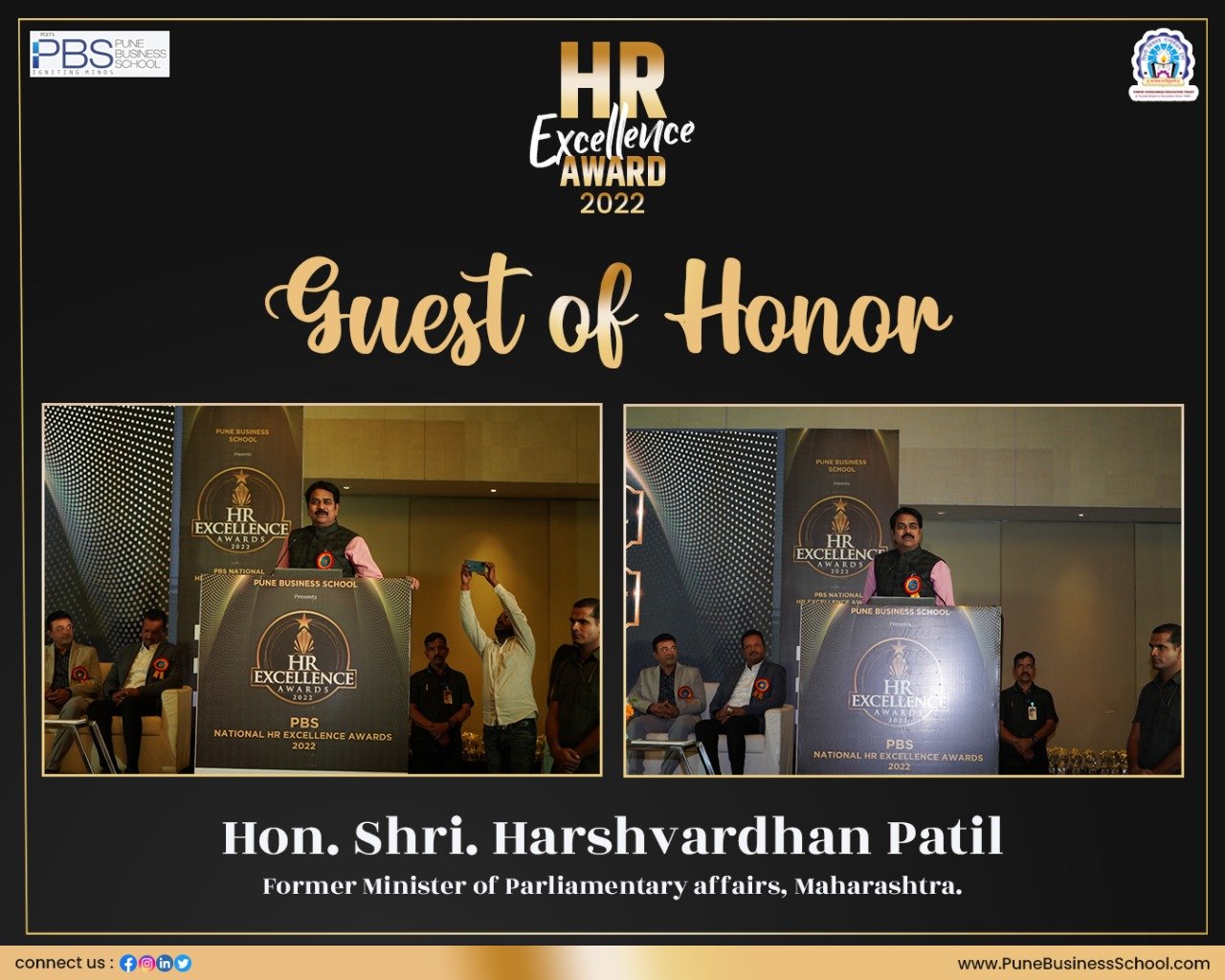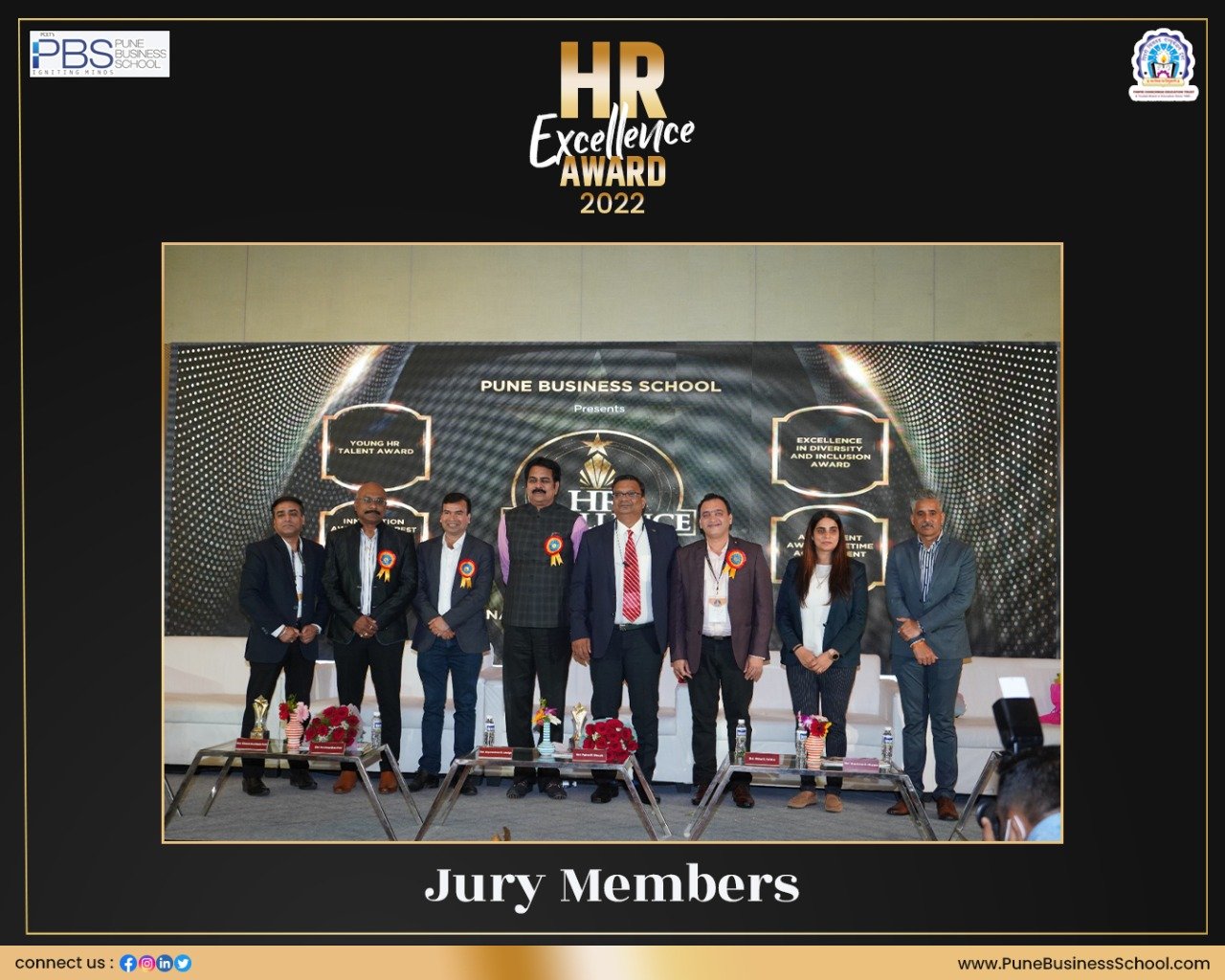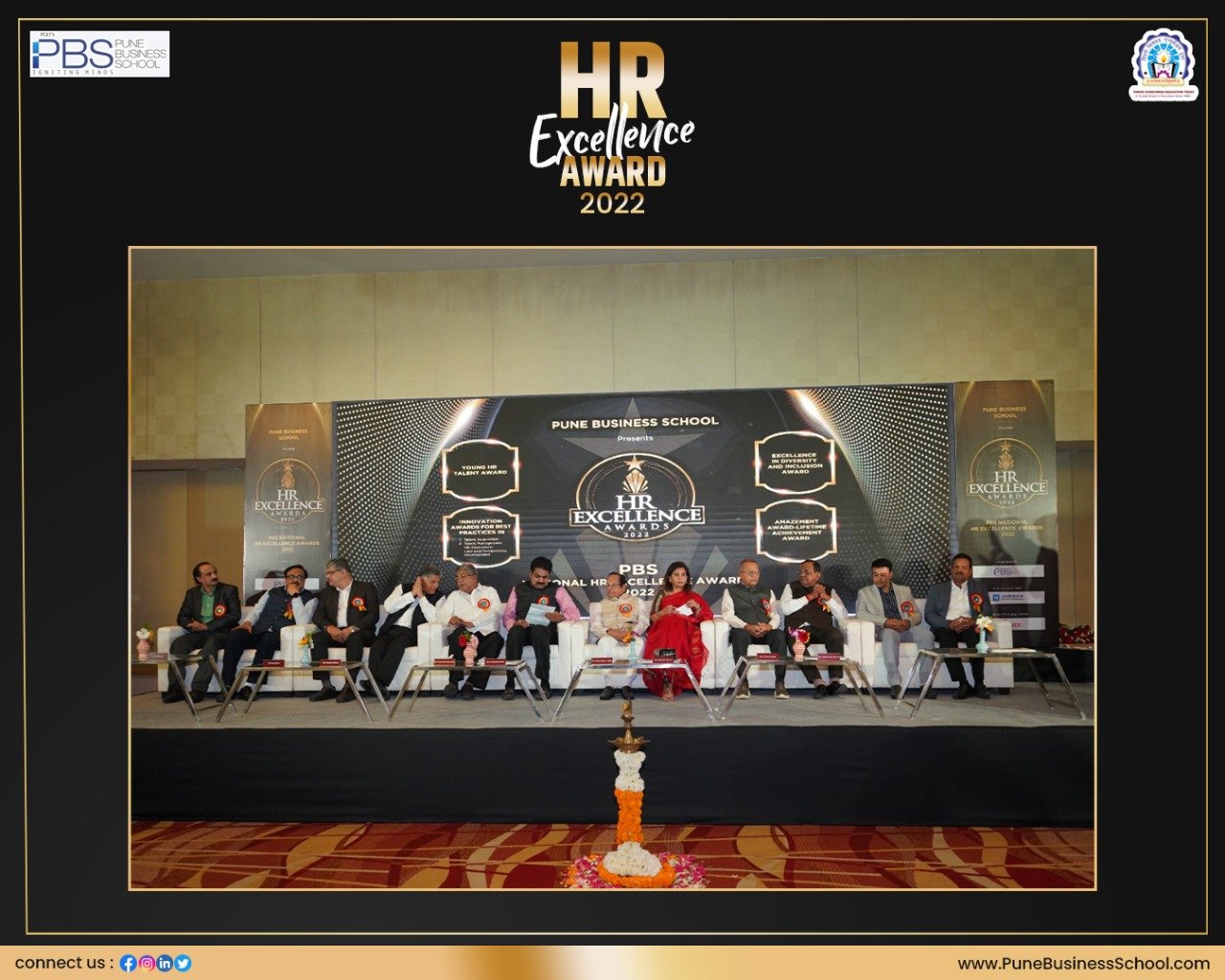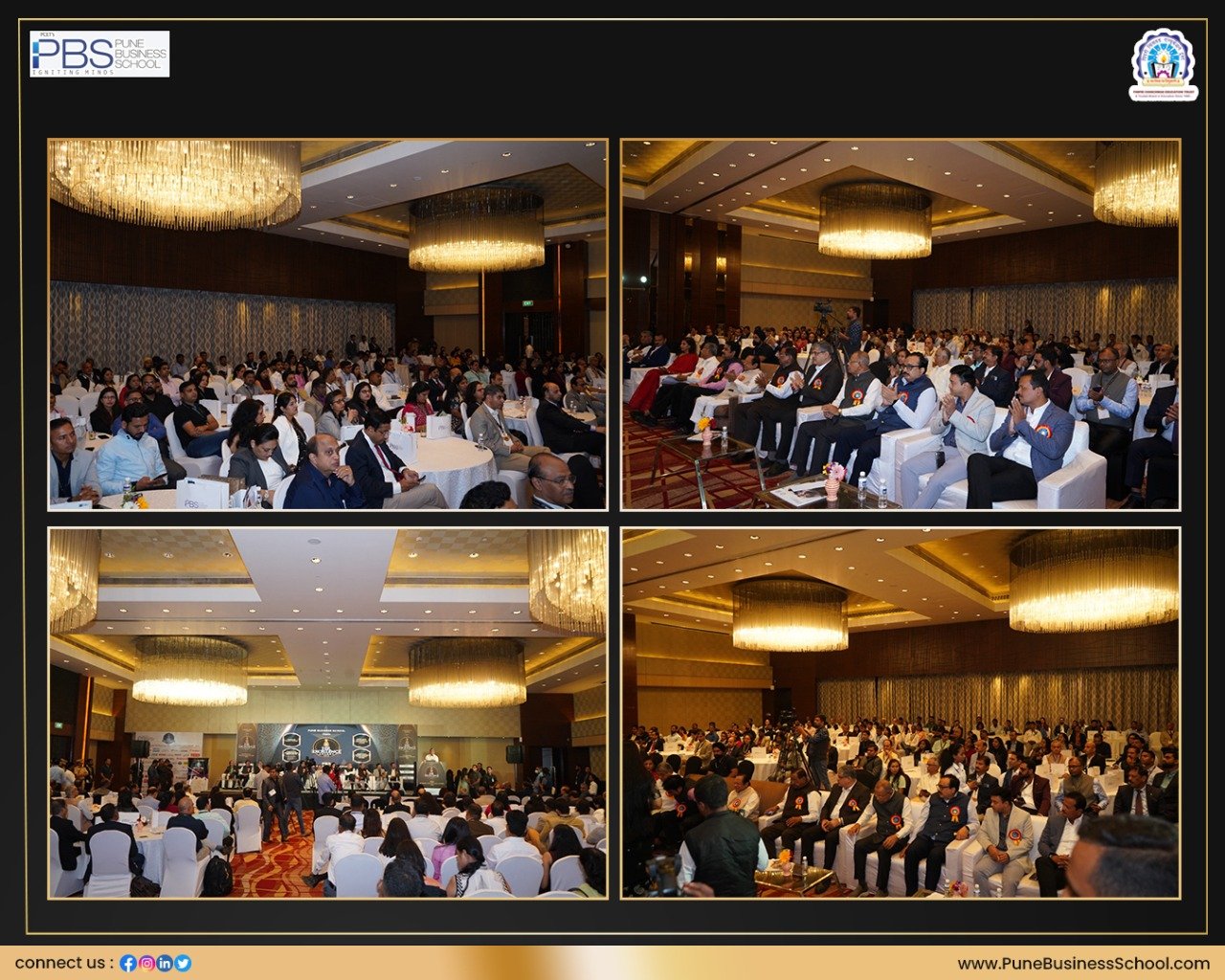 Trek to Discovery - Sustainable Activity for PGDM Students, Lohagad Lonavala
"Climb the mountains and get their good tidings. Nature's peace will flow into you as sunshine flows into trees" - John Muir
Rightly said by John Muir, Trekking is all about unwinding yourselves into Nature's laps & learning to face challenges in its own way.
PCET'S Pune Business School organized the Sustainability Activity "The Trek to Discover" for the batch 2022-24 to ensure that there will be learning through every single activity every single day.
It was well led by Dr. Manju Punia Chopra, Dean Academics, PBS along with the faculty members Prof. Arul Francis, Prof. Sagar Lokhande, Prof. Sagar Deshmukh, Mr. Ravikant Yerulkar, Ms. Pratiksha Savarkar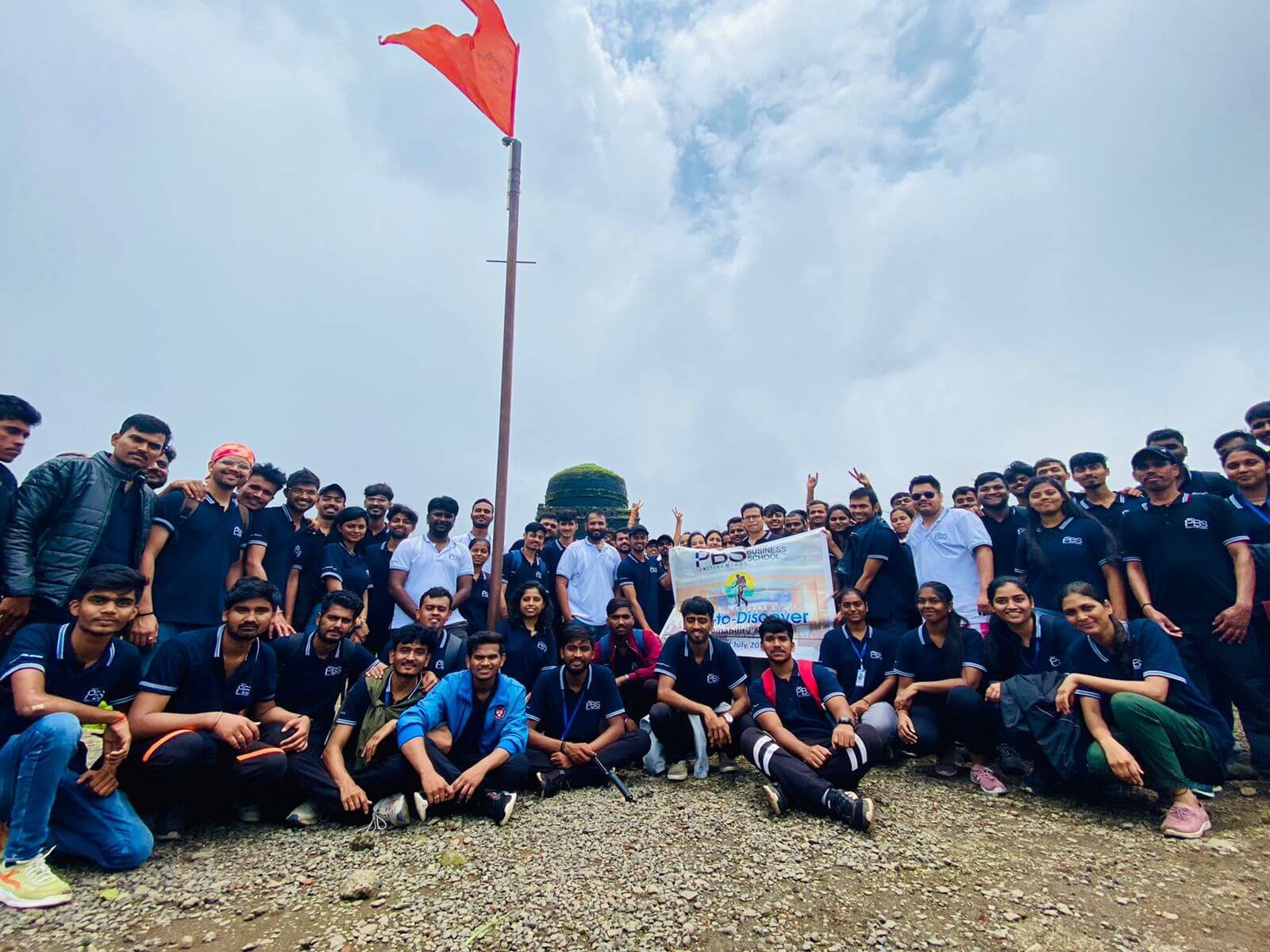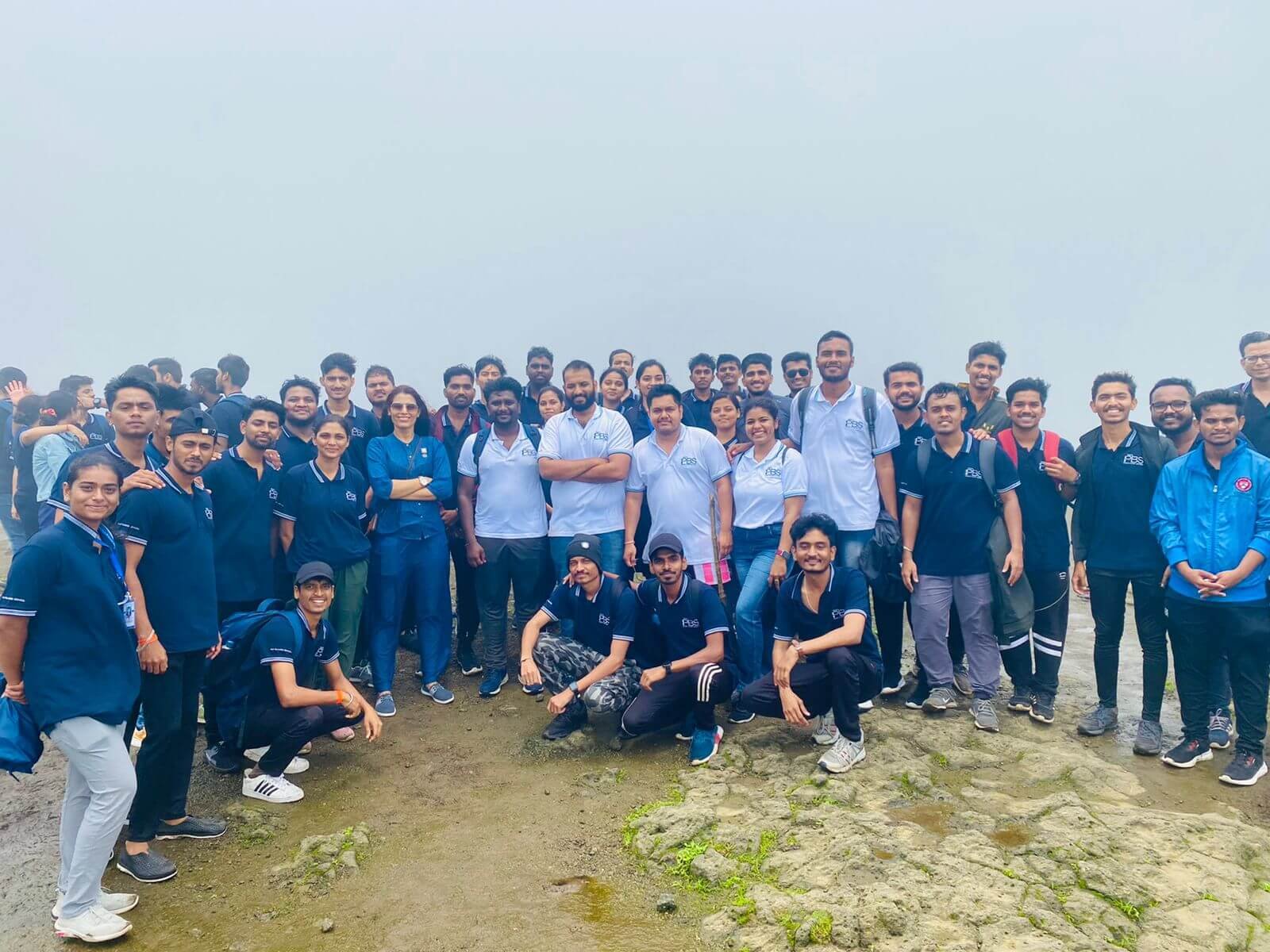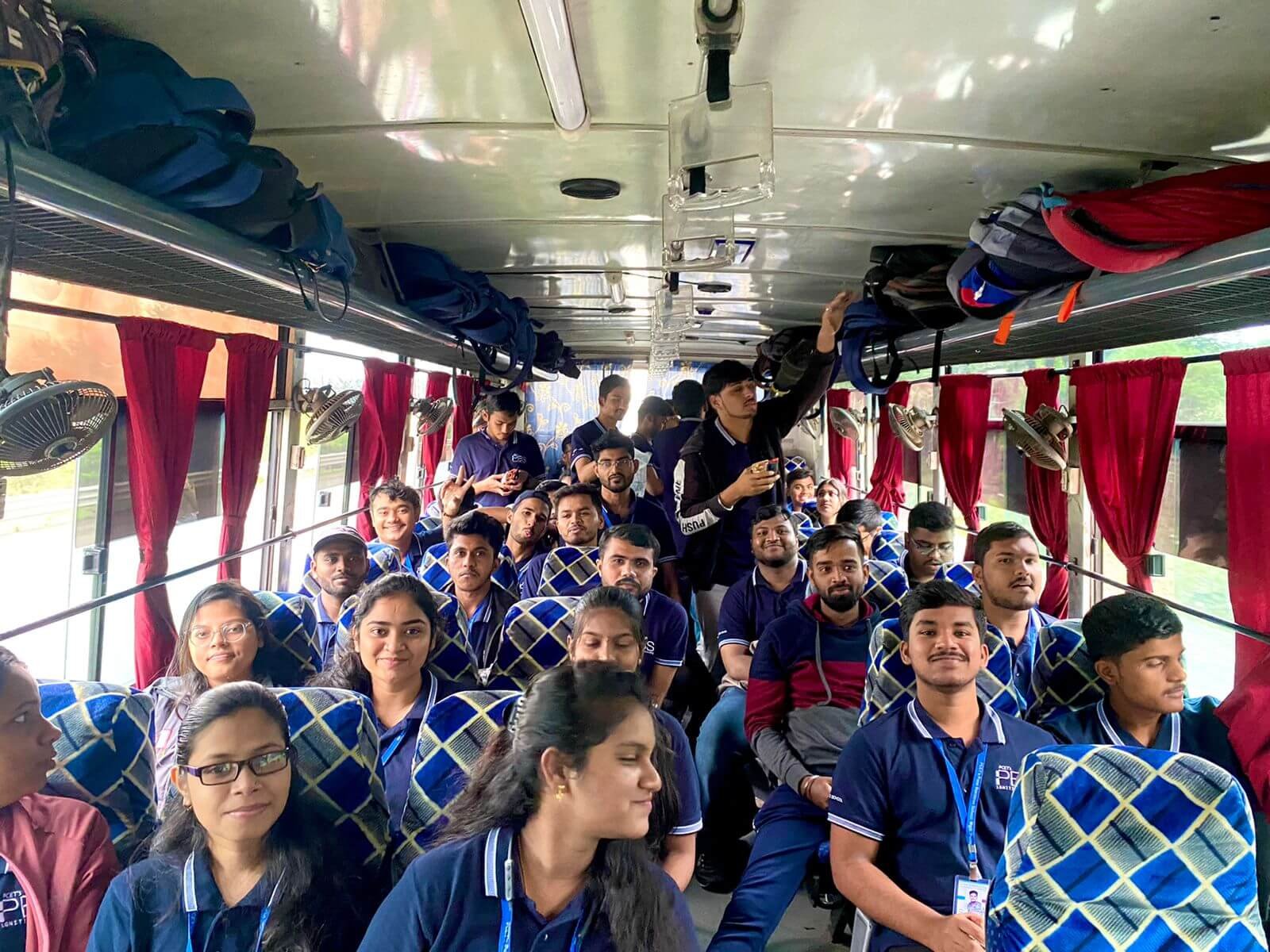 Glimpse of Induction Program Ceremony for PGDM Batch 2022-24 Day-1!!
The newly admitted students were accorded a warm welcome into PCET'S Pune Business School (PBS) through an Induction Ceremony on 1st July & 2nd July 2022. We welcomed the second batch of PGDM Program with mesmerizing Induction Ceremony. The festivities of day one began with the lightning of the lamp by the guest.
Dr. Minakshi Tyagi (Dean Corporate Relations, PBS) addressed the parents & freshers to welcome them to the PBS Family. Dr Ganesh Rao (Director, PBS) & Dr. Manju Punia Chopra (Dean Academics, PBS) felicitated Guest Speakers. Dr. Prakash Kulkarni (Agril Technologist, Krishibodh), Mr. Rahul Bagale (Group HR Head, Force Motors), Dr. Dilip Deshpande (Director, Aristotal Business Solutions), Mr. Ashutosh Sharma, Commander Pratap Pawar, Ph.D. (Director HR & IT, GS Lab), Mr. George Cardoz (Head HR, Forbes Marshall), Mr. Amit Jadhav- Corporate Speaker & Dr. Shraddha Kulkarni- Corporate Speaker were the guest speakers for the Two days Induction Program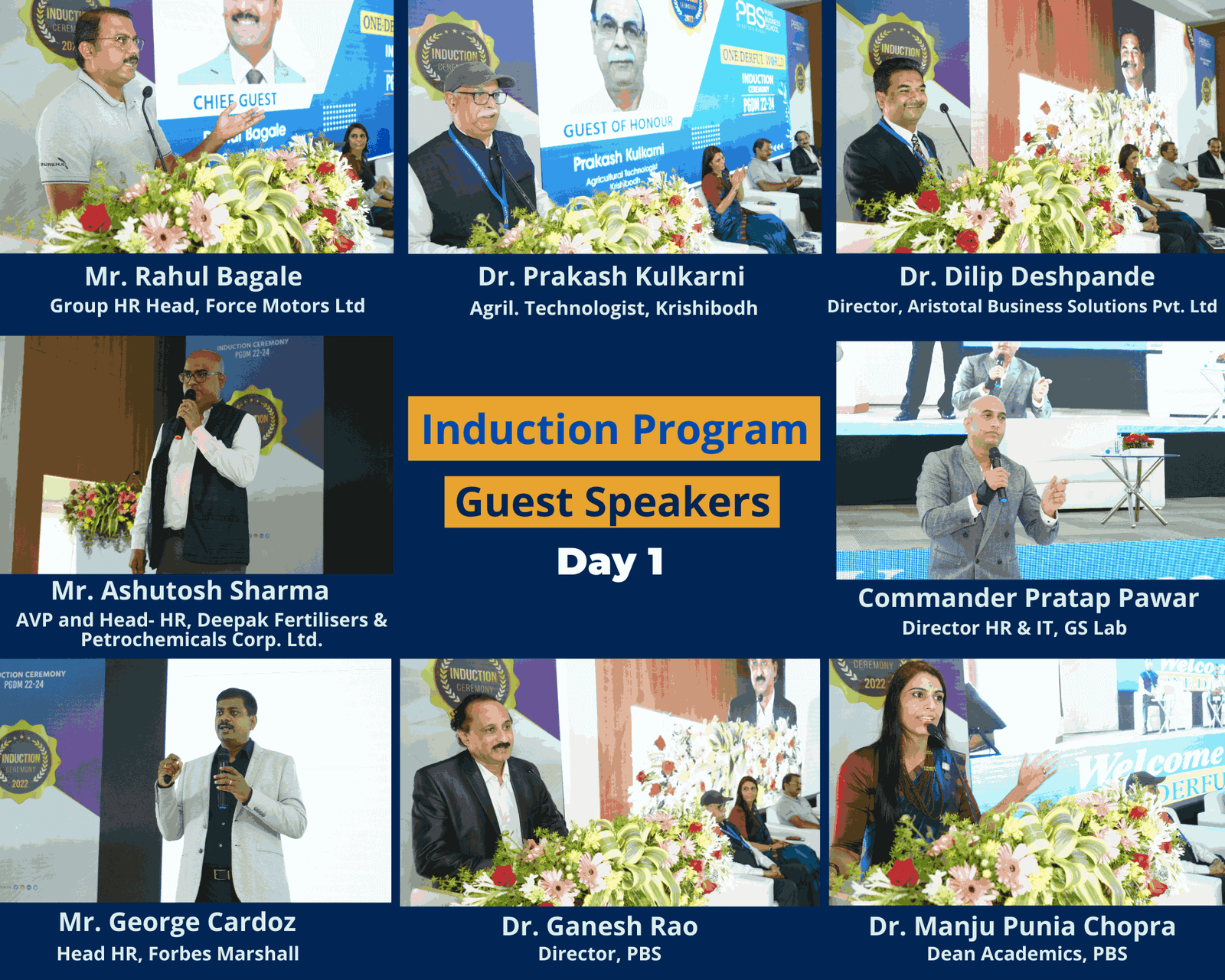 Glimpse of Induction Program Ceremony for PGDM Batch 2022-24 Day-2!!
Glimpses of PBS's AGRI-WISE 2022!!
PCET's Pune Business School organized Agri-Wise 2022 - National Seminar on "Careers Opportunities in Agri-Business Post Pandemic". The event was graced by Hon. Shri. Harshwardhanji Patil- Former Minister of State for Co-operation and Parliamentary Affairs, State of Maharashtra., Hon. Shri. Shekharji Gaikwad (IAS)- Commissioner of Sugar,State of Maharashtra, Hon. Shri. Dr. Parashram Patil, Agriculture and Natural Resources Economist, Govt of India & other eminent guests speakers in the field of Agriculture. We felt great pleasure to have you among us at this Seminar. We also organized competitions like Poster Presentation & Mad Ads & some management Games for Participants.
Pune Business School (PBS) ranked 7th among India's Emerging Business Schools.
Times B School Ranking Edition was published today.
In this ranking, Pune Business School has been honored as the 7th Emerging Business School.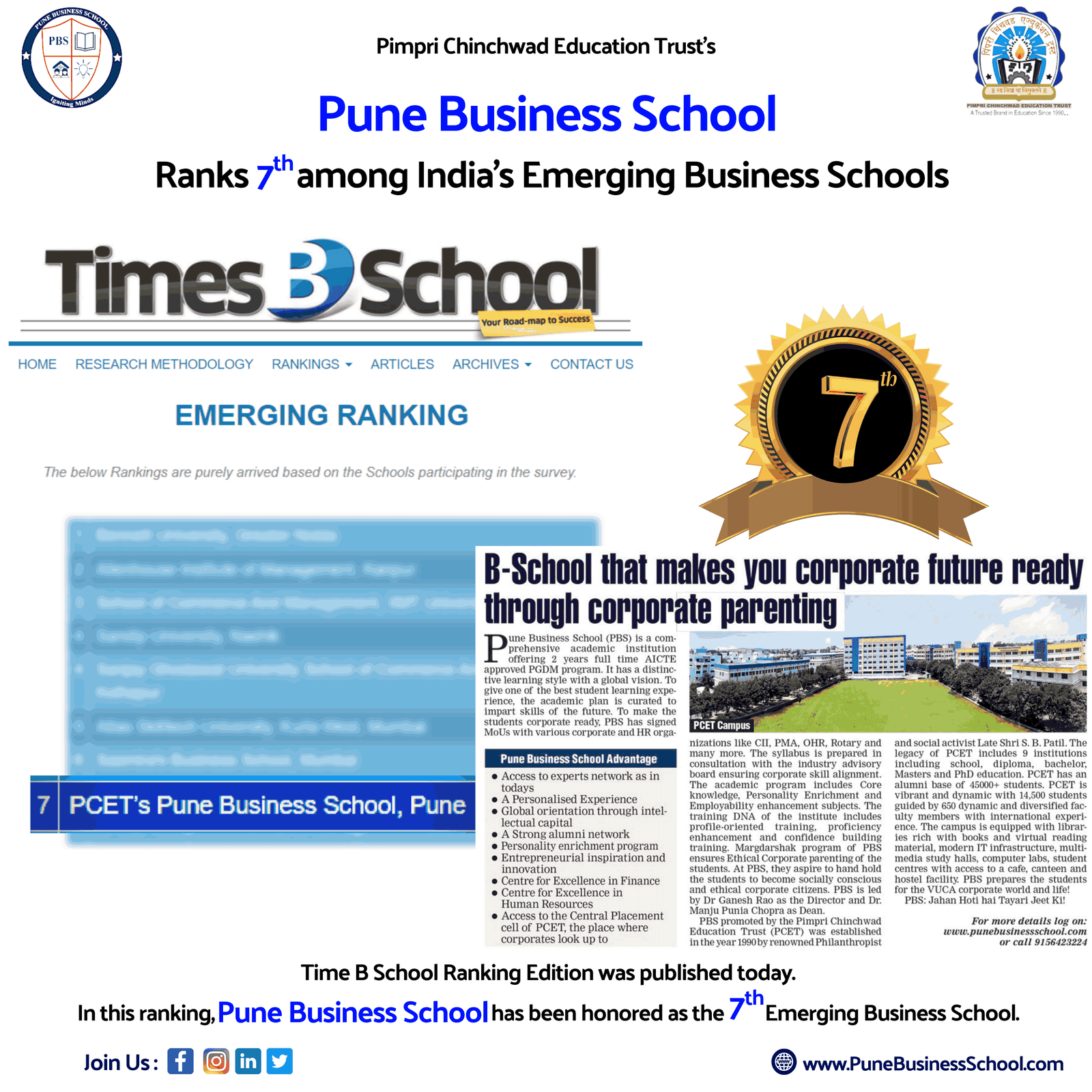 Celebration of Shivjayanti @PBS!!
Chhatrapati Shivaji Maharaj Jayanti is celebrated in Maharashtra on Feb 19th, who was the first Chhatrapati & founder of the Maratha Empire. At PBS, all the staff & students celebrated this day by telling courageous stories of Maharaj & performing small act of birth of Chhatrapati Shivaji Maharaj.
Freshers Party
PCET's Pune Business School organized Aaghaaz-Freshers Party. Aaghaaz 2021 was an aesthetic convergence of happiness, laughter & fun!!
Outbound Management Training (OMT) Program
PCET's Pune Business School (PBS) believes that leaders are not only made in classrooms but also when students put their knowledge, planning, teamwork & leadership skills to the test.
Outbound activity is one such practice that we encourage here, for the students to participate &knows their teammates better.
Outbound activity is conducted for PCET's PBS by Dr. Ram Gudgila (Health-Life Skills Coach), Master of Public Health, Certified under UNICEF-MUHS collaboration program Master of Science in counseling.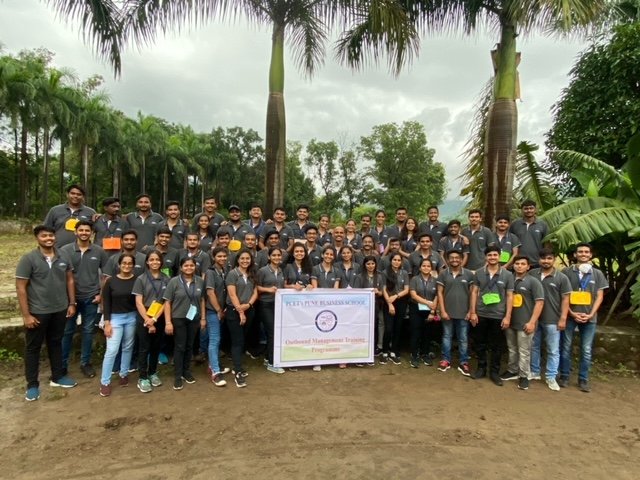 PBS Induction
"Joyful Management Learnings" - Two days work shop.
Two days workshop was conducted by Ms. Shraddha Kulkarni in hybrid induction program of Pune Business School. Management is something which need to be learnt joyfully to cherish the moments for rest of the life.
Students engrossed thoroughly while listening to the Trainer, Ms. Shraddha Kulkarni. To become a good leader ,you must be a good listener first. Patience & persistence is the key to success in whatever you Do. The mantra given to all the PBS students.
"Management is an art & An Artist must be creative "
Dr. Toshniwal explained the importance of being creative to outperform in the corporate world through different Management games.
"Corporate Etiquettes are the most important things that need to be learnt & followed by every management education students"
Ms.Uma Dabir emphasized on corporate etiquettes while interacting with the students.
"Demystifying Finance, Economics, Compliance, Corporate Governance & Beyond" A full month Capsule to Professionals, Students, Academicians by CA Promod Jain - A Stalwart Series